LUJO LIBRERO
Floating Luxury Bookcase
Hand crafted from American white oak timber including friar grey 2pac paint surfaces.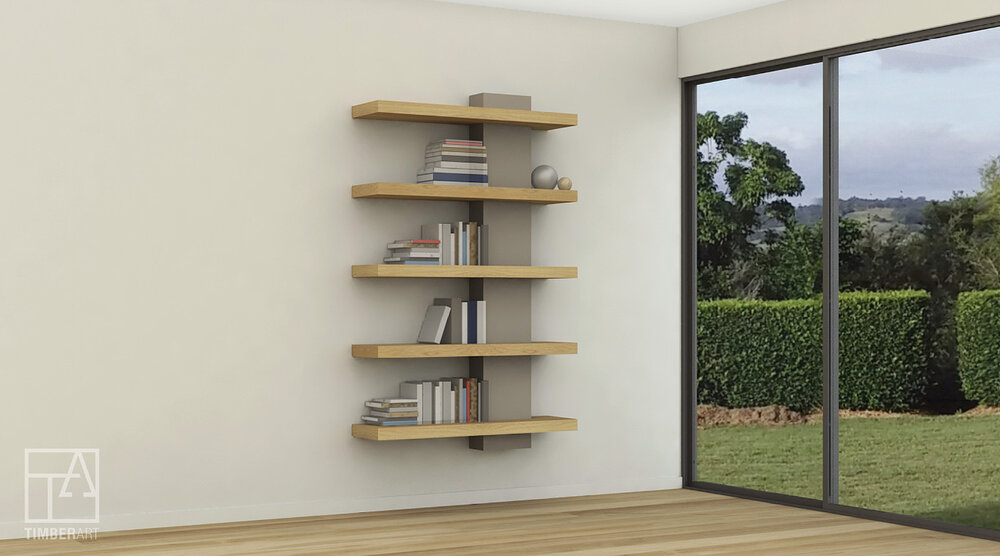 Step by Step DIY Install Luxury Furniture
The Lujo Librero is an off the shelf high end design that you can simply order, pickup & install. All furniture in the Timberart Home Series is masterfully designed, crafted and pre-assembled, ready for you to confidently install. For the DIY installer with an eye for quality, there's no better value.
Delivery and installation are available from Timberart upon request.
5 elements of The Floating LUXURY BOOKCASE
1. Five Floating shelves for storage and display
2. Capability to house large books and decor.
3. Left hand or right hand configuration.
4. The capability to fit to any wall type.
5. The ability to fit any commercial elevator.
Dimensions: length 1200 mm x height 1900mm x depth 300 mm
How to order and install your Lujo Librero
1: Choose your configuration
2: Install step by step on any wall construction type
Timberart's unique floating furniture system has the ability to be installed on any wall type. Simply follow the clear step by step instructions to install this 5 piece Floating Luxury Bookcase.
Special Price: $3585.00 inc GST
Pick up and DYI installation. For an additional fee Timberart can arrange delivery and installation.
All Timberart Home Series furniture comes with the following premium features.